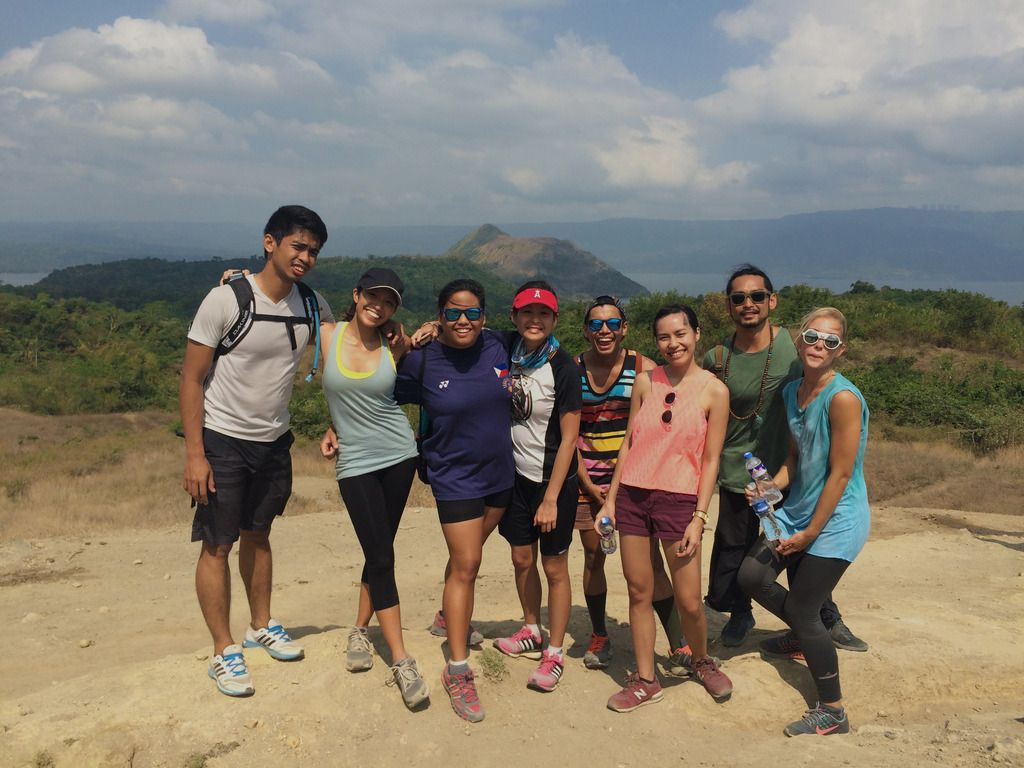 I know i promised I wan't going to write any post that sounded like a travel guide but my experience in this trip made me realize that I saved loads and I wanted to share it with people who have light pockes like me. So here goes...
A friend of mine invited us to her dad's newly opened museum (hint: Orlina) in Tagaytay but we all agreed to make a side trip to Taal Volcano to make the most of the day. It was well within the proximity and we all wanted to experience more than the postcard images we usually see, so I set out to arrange the trip. Getting a travel agency is the easiest option when wanting to explore a new place but I felt that the familiarity of Taal based on our gradeschool tales and its accesibility from Metro Manila, a DIY wouldn't hurt for a change. As with any destination, research is mandatory and as I was doing mine, I luckily stumbled up a blog where I found the details of a contact person for a boat rental in taal. I immediately contacted him and learned that boats could easily be rented at the port in Talisay. A tour guide would be readily availble for our group and only minimal fees were required to complete the trek.
Tour guide - 500 per group
Boat landing fee - 50 per boat
Tourist fee - 50 each
Horse (optional) - 450 each
Being a group of 8, we shelled out 500 php each for a total of 4000 php Not bad. Travel organizations charge a person a minimum of 1000 php from Tagaytay and 1500 php from Manila. Considering the minimal cost of the gas and toll as shared by our group, we were still able to save as much as half of what we could have paid. I felt like a winner! The only thing I regret is that I failed to coordinate with our guide regarding the different trails along Taal. based on my two previous climbing experiences, I assumed there would only be one leading us to the crater lake - I even packed my animal printed, nature inspired two-piece for the rewarding after-hike dip. But sadly, he suspected that we were first-timers and let us do the easier trek, the Spanish Trail.

We only found out about the existence of the other trails when we reached the view deck. I was surprised to find that I couldn't spot a path leading towards the crater lake from where I was admiring it. Under the comfort of the shades of the tiny shanties at the peak of our ascent, I saw a skim path that slowly disappeared towards the cooling waters of the lake, there goes the end of the Calauit Trail. I didn't let my emotions get my head hotter than the burning sun, I just took a long sigh and got myself a newly opened and ultra-refreshing BJ (coconut).

That wasn't the only surprise though, I also learned that the ever so famous Taal Volcano is not the one featured in the postcards I was talking about. Yes, it's not. I mean, it's not that big of a deal but don't you feel so deceived? I felt that my whole childhood was a lie! Haha! That was the only thing in my head on the way up, where we had the perfect view of the 'Faux Taal' all throughout our trek - a view, which by the way had a very prominent silhouette of the new SMDC high rise development in Tagaytay. Good job, Assholes! The trek itself was pretty easy. The trail was slightly sandy but sloped gradually making it easy for our knees. Our only enemy was the heat. So when climbing Taal, remember to put a generous amount of sun block! Oh, and one more thing, I know that horses are really awesome but please, be kind to animals and allow yourself to experience the fairly easy trek with your own efforts. It's more fun that way!

Even if we didn't get to dip our hungover selves in the inviting yet deadly waters of the lake, coming back for a secong trek is not a problem. So if you haven't done Taal, I suggest you take advantage of the fact that you can experience something like this just on the outskirts of Manila, or wherever you are. Don't forget to contact Angelo to get the same hassle-free experience at 09197280514.

Shout out to Darren and Gerda! You made the trip extra Awesome. See you in Bali!
Photos © Erika Ochosa